If you have a TV/PC/Laptop, it is probably competing for space on a power strip with other appliances. But what happens when a voltage spike or surge occurs? Can you trust that power strip to protect your equipment? Do you need a surge protector for your TV, PC, And Laptops?
Yes, you do because the only way to protect your TV and PC from spikes is to plug them into a surge protector. A UPS that has been plugged into a surge protector is even better. But if you don't have the financial means to buy a UPS, a surge protector will do.
You can lose one to a voltage spike instantly or over a period of days, weeks, and months. You have to realize that some surges and spikes are not powerful enough to melt your TV's components. But they can gradually lower their lifespan.
Let's talk it in brief!
Do I Need A Surge Protector For My TV?
Surge protectors are only important where devices with sensitive and expensive electronics are concerned. This is where your TV enters the picture.
According to MUO, you don't need surge protectors for every single device in your home. For instance, desk lamps and standing fans can get by without surge protection.
Surges and spikes are normally attributed to external factors such as a power grid failure, loose wiring, and lightning strikes. This is the reason why many professional electricians encourage homeowners to use whole-house surge protection and suppression devices.
They stand in between the power grid and your home's circuit, protecting it from unexpected spikes and surges. By installing one in your home, you can protect every single device that is plugged into an outlet on your property.
However, from what HDTVs and More has said, a whole-house suppressor cannot protect your TV from internal surges. A visit to Safe Electricity will show you that surges and spikes can also occur because of powerful appliances like freezers and vacuum cleaners that draw a lot of currents, particularly during their startup cycles.
The only way to protect your TV set is to plug it into a surge protector. So, in case you're still wondering, you need a surge protector for your TV.
How Important Is A Surge Protector For Your TV?
Surge protectors are important because surges and spikes can occur at any time and for various reasons. Even if you have a whole-house protector and you don't have any power-hungry items, a surge or spike can reach your Television via an antenna or satellite connection.
Even if your home has never experienced a surge, a surge protector will give you peace of mind. In modern communities where surges and spikes are a rarity, a surge protector is a cautionary tool. Buying one gives you confidence that your TV will most likely survive if a surge or spike occurs.
Admittedly, surge protectors do not always work. Some surges and spikes are powerful enough to destroy your surge protector and all the appliances attached to it. But a person with a surge protector is in a far better position than someone who doesn't have one.
Can I Plug My TV Into A Surge Protector?
A surge protector cannot affect your TV's operations. The practice is not associated with any consequences or side effects. Thus, you can plug your tv into a surge protector
How Many Joules Should A Surge Protector Have For A TV?
The average homeowner requires anywhere between 1,411 and 2,444 joules for their TVs. The joules reveal the amount of energy a surge protector can absorb before it stops working. Naturally, the higher the joule rating, the better.
Best Surge Protector For TV
You cannot trust your Television set to any random and inexpensive surge protector you find on the market. The best surge protector for TV should be reliable and long-lasting. Some suitable options include:
1). APC Surge Protector P11VT3
This surge protector has 11 outlets. They have shutters that enhance the safety of the device. The surge protector also includes 6 outlets that are spacious enough to accommodate large adapters.
The product has protective mechanisms for telephone lines, data lines, and coaxial cables. Expect a joule rating of 3,020 and $100,000 equipment protection.
2). Panamax M8 AV Pro
This surge protector is more expensive than the one above because it provides protection for your entire home theater system, which is why it has so many features, not just surge protection but also power cleaning and filtration, and Telephone, Coaxial, Sat, and Lan protection. You can trust it to keep your TV safe from overvoltage and under-voltage, especially when those issues are prolonged.
3). Tripp Lite TLP1008TEL
This is the perfect surge protector for your home. First of all, it is affordable. Secondly, it works with a variety of devices, not just TVs but also phones, scanners, routers, lamps, etc. Expect 10 NEMA 5 15R outlets, a UL 1449 Safety rating, diagnostic LED lights, 2,395-joule protection, and $150,000 insurance, to mention but a few. The cord is 8 feet long.
4). Furman PST-8
This is a comprehensive power conditioner that reduces AC line noise and contamination whilst also providing AC surge protection. It has shutdown guards in place that respond to extreme voltage. The product is so powerful that you can trust it to keep DJ equipment, audio rigs, and instrument rigs safe.
5). Belkin Pivot Plug Protector
This surge protector comes with 12 AC outlets that can be used to keep your TV, computer, phone, camera, and every other electronic device in the vicinity safe. The power strip has outlets that can cater to the needs of large plugs and adapters.
Slender in design and boasting a heavy-duty cord, it offers telephone and fax protection, 4,320-joule rating, coaxial cable and satellite connection protection, and a $300,000 connected equipment warranty.
What About Computers?
When a thunderstorm rolls in, you are normally encouraged to unplug all your electronic devices. But computers are complicated because they are constantly in use. In other words, people do not always have the option of shutting them down and unplugging them.
Additionally, it isn't always possible to sit back and wait for the thunderstorm to pass. But those people that encourage consumers to unplug their machines during a thunderstorm are not wrong. It may only take one lightning strike in the vicinity to fry your equipment.
And unfortunately, lightning isn't your only concern. Surges and spikes can happen for any number of reasons. This normally encourages people to question whether surge protectors are the answer.
Do I Need A Surge Protector For My PC/Laptop -Why?
Yes, you do because computers use delicate microprocessors that are unlikely to survive a surge. And even if they survive the surge, it can shorten their lifespan in the long run. Along with wiping all your data, you shouldn't underestimate the destructive capabilities of a voltage surge.
This is particularly true for consumers with gaming PCs that cost thousands of dollars. A surge protector will protect your investment.
According to HowStuffWorks,
All modern electronic devices with sensitive components require surge protectors.
Can I Plug My PC Into A Surge Protector?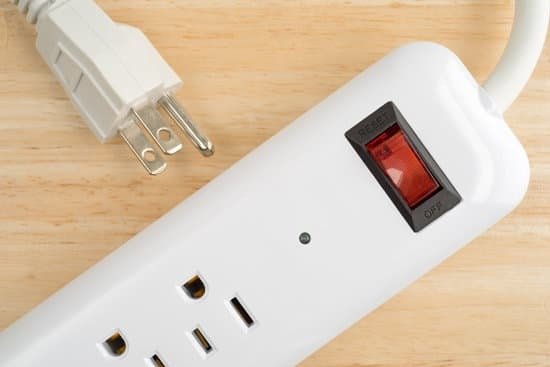 Yes, you can. They do not pose any threat to your computer's health. Though, it is worth noting that surge protectors are not perfect. A powerful surge can destroy them as well as your computer.
But you are better off having a surge protector than having nothing. Admittedly, some people believe that a UPS is better. This is the argument the people at Byte Solutions have made. And they have a point. A surge protector may stop a surge. But it cannot protect your computer from a brownout or a sudden blackout.
And if you did not know, computers have strict shutdown procedures that must be followed. Because a blackout prevents consumers from following these protocols, it has the capacity to destroy your computer and its data. This is where the UPS comes into play. It provides backup power that will keep your PC operational until you can shut it down properly.
According to PC Build Advisor, it also helps with brownouts and surges. Universal power supplies have basic surge protection. Therefore, if you have the option, you should get a UPS and then plug it into a surge protector for extra protection. But if you cannot afford a UPS, a surge protector is the next best thing.
What Kind of Surge Protector Do I Need For A Computer?
The best surge protector for PC has to tick certain boxes, including:
1). UL Safety Rating
All the best surge protectors have a UL rating. It shows that the device was vetted by an experienced organization that decided that the surge protector can be trusted.
2). Higher Joule Rating
This figure tells you the amount of energy the surge protector can absorb which, in turn, allows you to estimate the lifespan of the device. You should get the highest possible joule rating.
3). Low Clamping Voltage
This figure shows you the amount of voltage that is required to trigger the surge protector. You should prioritize devices with a low claiming voltage.
4). Enough Ports
As far as Life Hacker is concerned, you should pay close attention to the number of ports. You don't want a surge protector that doesn't have enough ports for all your computing equipment.
How Many Joules Are Needed For A Surge Protector For PC?
Any surge protector with a rating of 1000-2000 joules is adequate for your pc.
Best Surge Protector For Computer
If you need help identifying a suitable surge protector for your computer, consider these items:
1). Belkin 2,500 Joules, Eight Outlets
This is a surprisingly affordable surge protector with an 8-foot cord, 8 outlets, and a flat AC plug that is perfect for sockets in locations that are difficult to reach. Boasting a 2,500-joule energy rating, the device comes with a $100,000 warranty for connected equipment.
2). Kasa HS300 Smart Plug
This item has six smart outlets that can be independently controlled, several USB ports, and ETL-Certified surge protection. You can use the Kasa app to monitor your energy usage from any location. Most consumers will appreciate the voice control mechanism.
3). Tripplite 12 Outlet Surge Protector
Despite its affordable price tag, this is a powerful device with complete AC protection, 12 Nema 5 15R outlets, and a UL 1449 safety rating. The surge protector has gold coaxial jacks, 2888-Joule protection, and a lifetime warranty, not to mention $150,000 insurance.
4). Belkin Pivot Plug Strip
This one comes with twelve AC outlets that can protect everything from cameras and laptops to desktops and phones. The outlets rotate out of the way to provide additional space for large adapters. You can also use the device to protect satellites, phones, and coaxial cables and lines. It comes with a $300,000 warranty for connected equipment and 4,320-joule protection.
5). Anker 12-Outlet Surge Strip
With this power strip, you get twelve AC outlets, three USB ports, a 6-foot cable, and 4,000-Joule protection, which is very impressive. It comes with a $300,000 warranty for connected equipment.
Conclusion
Do you need a surge protector for the TV? Yes, you do. It can protect your TV from spikes and surges that come from the grid. If you have a whole-house suppressor, a surge protector will defend against internal surges and spikes that happen as a result of power-hungry appliances. Even if spikes rarely happen in your area, you should buy a surge protector just in case
What about computers? Everyone needs a surge protector for a PC. Computers are very expensive. Some cost hundreds of dollars. Others cost thousands of dollars. You also have those that cost tens of thousands of dollars. And a surge from loose wiring, a lightning strike, or a power-hungry appliance can destroy these machines in an instant.