Have you ever stopped to wonder what the various lights on a water heater mean? If you haven't, this is as good a time as any to start because those lights are important. They can speak volumes about the health and functionality of your water heater. Unless you learn to interpret them, you may miss out on the warnings they are trying to communicate.
Water Heater Showing A Red Light – Why?
A red light shows that the water heater is shutting down. You should respond by moving the gas control valve to the 'OFF' position.
If the circuit board is damaged and it cannot generate the power the spark igniter needs, the red light will come on and stay on.
Many professionals expect a solid red light to signify a problem with the electrical components, which is why they encourage consumers in such situations to check and clean the connectors and contacts.
Water Heater Blinking Red Light – Why?
If the light flashes once every three seconds, it simply indicates that everything is working as expected, that is to say, the pilot light is lit and the gas control valve is functional.
That being said, check the manual that came with their water heater. It should have a chart that explains what the flashing lights mean.
Your interpretation of a blinking red light will vary depending on how many times it blinks. One blink is different from two blinks. Compare the number of flashes to the information in your chart to accurately interpret your status lights.
What Does Flashing Red Light On Water Heater Mean?
It shows that the gas valve is operating normally, especially if the light flashes once every three seconds. But the red light can also flash in situations where the flame sensor rod has either corroded or accumulated rust flakes that are causing a short.
Cleaning the rod with fine sandpaper may solve the problem.
Water Heater Red Light Flashing 7 Times – Why?
A water heater with a red light flashes seven times every three seconds shows that the gas control valve has failed.
You need to replace the gas control valve.
Water Heater Green Light Meaning
A solid green light means that the water is hot and the unit is in standby mode.
Water Heater Flashing Green Light – Why?
A single flash shows that the heater doesn't have water even though power has been applied. The obvious solution is to fill the unit with water.
Two flashes show that the heater is shutting down because of the high water temperature. You have to measure the resistance between the blue and yellow wire connections as well as the resistance between the thermistor plug's red wires.
Three flashes show that the thermistor's operations have been compromised. In some cases, you can solve this problem by making sure that the thermistor plug is secure and oriented correctly.
With four green flashes, you can assume that the upper element has a problem. Five green flashes indicate a similar problem.
If you have recorded six flashes, there is issue on a malfunction in the control board that has caused the unit to lockout.
Consult your manual before you panic. The green flashes coming from your unit could have a different meaning.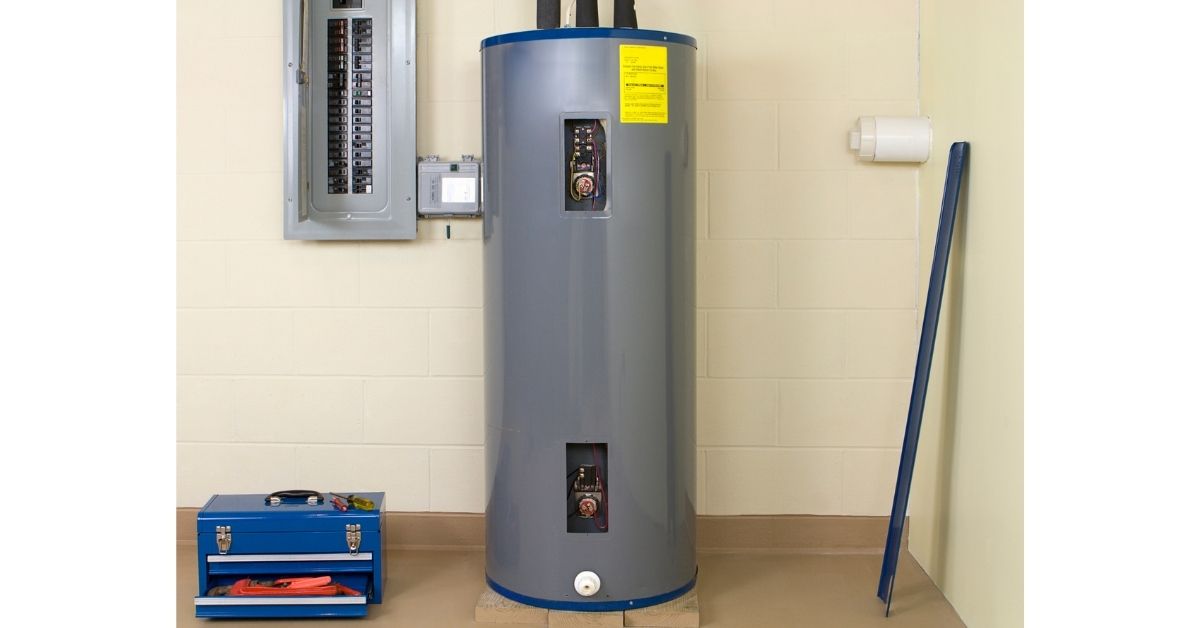 It looks like the LED will flash in the absence of electrical power. One short flash every four seconds shows that the unit is in standby mode.
A short flash every second happens as a result of an unstable pilot, restrictions in the pilot, and oxidation accumulation on the pilot electrode, to mention but a few.
If the LED flashes twice every three seconds, the damper test circuit has stopped working. In cases where the light flashes four times every three seconds, the tank temperature is too high.
Five flashes are a sign of a false pilot flame. Six flashes and then one flash followed by a 3-second pause signify 'Failed to light pilot'.
Your unit's status lights may follow a different scheme from this one.
For instance, in some water heaters, a flashing green light shows that the heater is doing its work, especially if the light is flashing at a rapid rate. On the other hand, slow flashing may signify a situation where the heater is working but there is no request for heat.
Check the manual to get clarification on the meaning behind your heater's flashing light.
Water Heater Blinking Green Light – Why?
A blinking green light indicates that the water heater is calling for hot water. The blinking light can also signify a faulty end switch on the zone valve.
Depending on the number of flashes, a blinking green light may signify the application of power to a heater that doesn't have water, high water temperature, malfunctioning thermistors, and defective control boards.
Water Heater Green Light Not On – Why?
The absence of green light could mean any one of several things, including a faulty control board and incorrect supply voltage.
Water Heater Blue Light Flashing – Why?
A flashing blue light on a water heater could mean any of the following depending on your model:
A call for heat
A draft pressure switch error
Blocked diameter vacuum tubing
Water in the diameter vacuum tubing
Defective pressure switch
Water Heater Flashing Blue Light 3/7/8 Times Meaning
Blue Light Flashing 3 Times – This indicates an open draft pressure switch that could be caused by a bad switch, blocked exhaust vent, or a weak fan.
Blue Light Flashing 7 Times – Seven flashes means ther is a fault on a flammable vapor sensor.
Blue Light Flashing 8 Times – This indicates 'Flammable Vapor Sensor Out of Specification'. If you recorded eight flashes, three flashes, and then a pause of 3 seconds, the thermostat well and sensor are either damaged or unplugged.
Rheem Water Heater Flashing Light Meaning
Flashing lights on a Rheem heater are typically associated with an open safety switch that has 'Failed To Close To Sequence'. Though, it may also signify a pilot/control malfunction.
Water Heater Blinking White Light Meaning
Blinking light shows that your unit's pilot light is out. If the pilot light is out, not only will the water remain cold but you won't see the flame.
Water Heater Yellow Light Meaning
In a gas water heater, the pilot light should be blue. A yellow pilot light is inadequate. It is not as hot as a blue flame. More importantly, you have to keep relighting it.
A yellow light is caused by insufficient air. You can solve this problem by cleaning the air intake valve.
Water Heater Orange Light – Meaning
Orange flames are due to dust or dirt. They expect gas burners to generate a blue flame. If the flame is yellow, the air supply is not sufficient.
The orange flame eventually turns blue. Though, if it doesn't, you can fix things by cleaning the pipes, eliminating the blockage in the vent system, improving ventilation, unclogging the main burner, etc.
Water Heater Blinks 4-5 Times – Why?
'High-Temperature Shutdown' is a problem that can cause 4 flashes in a water heater. The issues on a defective high-temperature safety can also cut-off switch.
A wall-mounted water heater will display similar flashes of light whenever hard water mineral deposits fill the heat exchanger.
Water Heater Light Codes
For Honeywell Brand,
1). If the light is not flashing, the pilot is out
2). One flash means that the unit is operating normally
3). Two flashes signify low thermopile voltage
4). Four flashes are a sign of high-temperature shutdown
5). Five flashes indicate a temperature sensor failure
6). You will see seven flashes in situations where the gas control or valve fails
7). Eight flashes signify a flame sense error.
These codes differ according to different brands.
For instance:
1). One short flash (every four seconds) shows that the unit is in standby mode
2). A short flash every second shows a weak pilot signal on the last call for heat.
3). Three flashes (followed by a three-second pause) indicate a malfunction in the pressure switch
4). Five flashes (followed by a three-second pause) indicate a false pilot flame
5). Eight flashes (followed by four flashes and a three-second pause) reveal a fault in the gas valve.
Again, it is important to consult the manual before you make any decisions. Better yet, call the manufacturer. They will tell you what all the light codes mean.
Water Heater Light Problems and Solutions
Water Heater Light Off- Meaning
If the LED is off, the water heater doesn't have access to electrical power.
Water Heater Not Blinking – Why?
If the water heater light is not blinking, more than likely, the pilot is out. Other potential causes include a bad thermopile, the presence of air in the gas line, a tripped thermal switch, and loose connections.
But in many cases, you're looking at a pilot that is not lit.
How To Fix It?
You can relight the pilot by pushing the gas control valve knob in. Hold the knob in place as you click the spark ignite button. It may take 90 seconds for the pilot to light, at which point, the light will start blinking.
Water Heater Light Not ON– Why?
If you have gas and propane water heaters, they use a flame called a pilot light to ignite the burner. If the pilot light has gone out, there are issues with a change in gas pressure, defective thermocouple, a strong draft, and insufficient air.
If you have a conventional electrical heater, the absence of light shows that the heater doesn't have electrical power.
How To Fix It?
1). If you have an electrical heater, and the light is not on because the unit doesn't have power, start by checking the circuit breaker. If it tripped, reset it. If the fuse was blown, replace it.
If the circuit breaker is fine, you should consider replacing the electric water heating element.
2). You can respond to a change in gas pressure by relighting the pilot.
3). If the thermocouple is dirty, you can clean it. If it is bent or damaged, ask a technician to repair it. If they can't, get a new one.
4). If the heater doesn't have enough combustible air, ask a technician to improve your unit's ventilation.
Light On Water Heater Won't Stay Lit – Why?
Debris in the pilot tube is restricting the flow of gas
The flex tube has a kink
Dirt has obstructed the thermocouple
The thermocouple is damaged
The main control valve is defective
Water Heater Switch Light Always On – Why?
Where propane-powered heaters are concerned, the light might stay on if you're out of propane. If it is a question of the burner constantly running, you should look for water leaks, worn-out insulation, and an accumulation of sediment at the bottom.
How To Fix It?
If you don't have propane, get more propane. Otherwise, you should consider hiring a professional to check the wiring. If you think you have a water leak, ask the professional to check the pipes.
They can also use an insulating wrap to fix the insulation. Without proper insulation, the water heater will expend more energy than normal to heat the water.
Don't forget to ask the technician to check for sediment at the bottom. They have to drain the tank to clean it out.
Light Flickers On Water Heater – Why?
The lights in your home flicker whenever your heater activates because the unit draws a lot of power. This affects the voltage being transmitted to the rest of your home.
Light On Water Heater Goes Out – Why?
The thermocouple is the most common culprit in such situations. It will either bend or accumulate dust and debris.